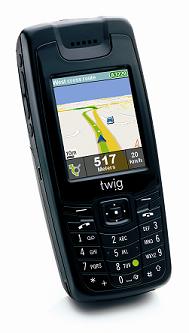 Benefon are convinced that they're the first company out there to integrate GPS into a mobile phone. So, we won't tell them about Navman who had a similar product out months ago for the Nokia N Series phones, and the fact that there are certain PDAs that do the same. But luckily for them, there are other things it does which still makes it what every phone wants to be - different.
As well as the integrated GPS, it's got something called 'TWIG Finder' which allows you to find your friends in the area, as well as find your way to them (although they have to also use TWIG). It's also got a safety feature, which you can activate if you hit a spot of bother, sending your exact whereabouts to 10 preset contacts via text message.
It's currently only available SIM free, and will set you back £330. Which I suppose if you're constantly lost, and need a new phone, is a bargain.
Product page: TWIG
More GPS delights: Drive Alert Master|creepy Navirobo|AA Navigator
Into fitness and health gadgets? Check out our new site, Connected Health