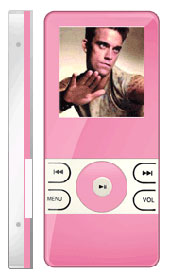 According to Redsave, pink is "the colour of the decade" and MP4 players are the "must have gadget for the coming year". This is pretty handy for them, because this is a pink MP4 player, which they just so happen to be selling for £69.95 (or £49.95 if you sign up for their Redsave Pass). It has a 1.5 inch full colour display and 1 GB USB flash drive, and will let you do everything you'd expect to do with a music player: listen to MP3s/ radio stations, view photos, read ebooks and make digital recordings.
All of this comes in a bubblegum-pink, ultra-slim package, which, according to Redsave, will "fit easily in your Gucci handbag or the back pocket of your Versace jeans". Us girls, eh? What are we like, with our pink players and our designer handbags?
Related: Pink PDA | MTrix Pink Portable Media Player | The MP3-playing watch. In pink.

Into fitness and health gadgets? Check out our new site, Connected Health