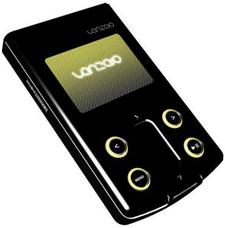 Another player to add to the growing list of "do it all" portable media players, the Venzero One does everything you'd expect, so there's an impressive 12GB of storage for your files and you can playback MP3, OGG, WAV, WMA and DRM files on the music player. You can also watch video in AVI format on the 2-inch TFT screen. But wait, there's more - an RSS reader, image reader, FM radio and a built-in microphone for voice recording.
Not satisfied yet? You're a hard one to please, aren't you. OK, read on for the really juicy stuff.
OK, there's also Shareport - the Venzero One can upload and download files via dual USB ports between a range of devices. And the device features MusicMarker - just press a button on your player to record a short audio clip when you're out and about, get home and sync with your PC, then check with the Venzero service for a match to the tune.
The Venzero One is available now, priced at £199. Other models with smaller drives are also available.
Product page:: Venzero One
More Shiny MP3 player news here.
Into fitness and health gadgets? Check out our new site, Connected Health