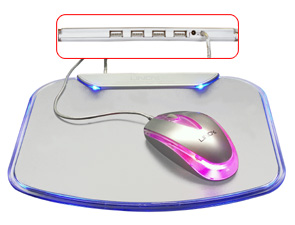 The perfect accompaniment to your glowing mouse (What? You don't have a glowing mouse?), the Lindy illuminated mouse pad has a collection of blue LEDs along its edge, giving a cool blue glow.
It also has a handy four-port USB Hub for connecting that ever-expanding collection of plug-and-play gizmos. Plus, connection for an optional power supply (perhaps the good folk at Lindy read Shiny Shiny?)
Okay, so you don't actually need a new mouse mat, but at just £14.99, it's hard not to be seduced.
Related stories: Tiny USB Hub | Colourful keyboard
Into fitness and health gadgets? Check out our new site, Connected Health